[pedagogy news]
Interesting pedagogical tidbits:
State law requires digital college textbooks by 2020
"Companies that sell textbooks to California universities must offer electronic versions by 2020, under a new state law.





Electronic books are generally less expensive, better for the environment and often more suited to the way today's students study, proponents say. And a Kindle weighs a whole lot less than a backpack full of 500-page textbooks.





'Think about kids carrying around all these books — or just carrying a Kindle wherever you go," said Joan Wines, an English professor at California Lutheran University who is doing research on digital textbooks.'"



Read the article here.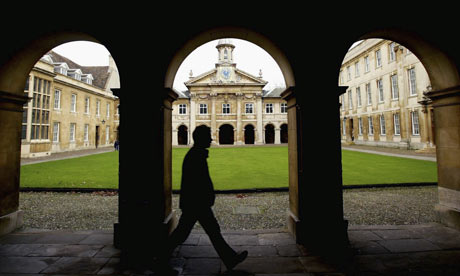 U.K. Universities are now (also) facing huge classes:
Cash-starved universities will have huge classes, says union
"Universities in the UK will be among the most overcrowded in the world within three years if savage government cuts to higher education go ahead, ­academics warned today.






The lecturers' union, UCU, said more than £900m of cuts announced last month would fill lecture halls with "some of the biggest class sizes in the world" by 2013.






A report by the Organisation for Economic Cooperation and Development published last year shows that while the average ratio of students to lecturers in UK universities is 17.6, in OECD countries the average is 15.3.






Sally Hunt, the union's general secretary, said that "the dreams of many hardworking parents for their kids to go to university ... will be over". The cuts would send at least 14,000 academics to the dole queue.






The warning comes after top universities accused Gordon Brown of jeopardising 800 years of higher education, saying the cuts – which the Institute for Fiscal Studies says may reach £2.5bn – would 'bring them to their knees.'"



Read this entire article at the Guardian.
Labels: books, digital literacy, future, learning, new media, pedagogy